Peninsula Working Group
From the coastline through the Santa Cruz Mountains to the San Francisco Bay, "The San Francisco Peninsula" (the Peninsula), contains of a diverse array of unique landscapes. These landscapes have benefited from decades of work by advocates, public agencies, nonprofits, communities and philanthropists to protect our shared resources. These open spaces and protected lands provide our drinking water, food, recreational space, and wildlife habitats. To build on the foundation of protected lands the agencies and non-profit organizations of the Peninsula Working Group (PWG) work together to enhance this legacy through improved public connection to open spaces and integrated, healthy and viable landscapes. Many members of the PWG have met regularly, in one configuration or another, for over a decade. In 2014 the group decided to undertake a deeper collaborative planning process.
Partners
California State Coastal Conservancy
Midpeninsula Regional Open Space
San Mateo County Parks
Peninsula Open Space Trust
California State Parks and the San Francisco Public Utilities Commission also participate in the collaborative but have not signed on the MOU for capacity reasons.
Brian Avilés
Chief of Planning, Golden Gate National Recreation Area, Muir Woods National Monument and, Fort Point National Historic Site
Brian Avilés is the Chief of Planning for the National Park Service, Golden Gate National Recreation Area, one of the parks established under the rubric of "bringing parks to the people where the people are". The park spans over 80,000 acres around San Francisco, encompassing iconic sites like Muir Woods National Monument, the Golden Gate Bridge, and Alcatraz Island. His team helps accomplish the Park Service mission to preserve resources for future generations (a challenge given the scores of endangered species and historic features in the park) while bringing national park experiences to a large and diverse population. Brian's educational background includes degrees in Landscape Architecture from the University of Arizona and Harvard University. He is a licensed landscape architect having practiced in several multidisciplinary offices, as well a former college professor with a decade teaching at Cal Poly, San Luis Obispo. Brian joined the Park Service in 1999.
Roles:
National Park Service: Chief of Planning, Golden Gate National Recreation Area, Muir Woods National Monument and,
Fort Point National Historic Site
Tamalpais Lands Collaborative: Partner agency staff
CA Network: Member Representative
Contact Brian:
415-561-4942
[email protected]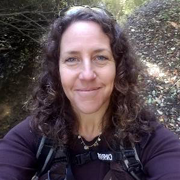 Kellyx Nelson
Executive Director, San Mateo Resource Conservation District
Contact Kellyx about: Project & Program Development, Management, and Implementation, Ecological and Habitat Restoration, Strategic Partnership Formation and Delivery, Outreach and Community, Engagement, Permitting Strategy, Organizational Capacity Building, Funding Strategy, Development, and Management
Kellyx Nelson has spent 28 years in the private and public sectors in program and project development and implementation, environmental education, organizational capacity building, community outreach, building partnerships, and developing solutions to difficult resource problems. She has served as the Executive Director of the Resource Conservation District since 2006. Her diverse career has included 14 years as an environmental educator for underserved communities in New York and San Francisco, driving a Freightliner cross-country as a long-haul trucker, delivering packages as a motorcycle messenger, and managing conservation projects for Peninsula Open Space Trust. She has an undergraduate degree from Columbia University in Political Science and Environmental Science and a Master's Degree in Public Policy from UC Berkeley.
Under her direction the RCD has achieved distinction, receiving the 2016 Sustainability Award from Sustainable San Mateo County and 2012 District of the Year from the California Association of RCDs. In 2015, Kellyx was inducted into the San Mateo County Women's Hall of Fame in recognition of her contributions to the overall well-being of the County.
Roles:
San Mateo Resource Conservation District: Executive Director
Peninsula Working Group: Partner
CA Network: Representative
Contact Kellyx:
650.712.7765 x102
[email protected]
Ana Ruiz
Assistant General Manager, Midpeninsula Regional Open Space District
Contact Ana about: Open Space Preservation, Natural Resource Stewardship, Open Space Land Management, Open Space Planning, Environmental Permitting, Executive Level Management and Administration, Media Communications, Partnership Coordination and Development
Ana Montaño Ruiz is Assistant General Manager for the Midpeninsula Regional Open Space District (District), a special district focused on the preservation of open space lands, restoration and protection of sensitive natural resources, and ecologically sensitive public recreation and enjoyment. Along with supporting the District's General Manager, Ms. Ruiz oversees the Visitor and Field Services business line with a total budget of $22M comprised of the Visitor Services (patrol, volunteer & docent programs), Land and Facilities (facility and trail maintenance, property management, field projects), and Natural Resources (vegetation and wildlife management, resource permitting).
Previously, Ms. Ruiz was the Assistant General Manager overseeing the Planning and Project Delivery business line from 2013 to September of 2017. Prior to that, she served as Planning Manager (2009 – 2012), managing a department of 15 staff across four planning programs (advanced planning, resource planning, capital improvements, GIS). In total, Ms. Ruiz has over 19 years of public sector experience in open space preservation, recreation, and natural resource stewardship. Ms. Ruiz holds a Bachelors degree from Stanford University in Geological and Environmental Sciences, a Masters in Urban Planning from San Jose State University, and recently completed the Stanford University Local Governance Summer Institute program.
Roles:
Midpeninsula Regional Open Space District: Assistant General Manager
Peninsula Working Group: Member
CA Network: Representative
Contact Ana:
(650) 691-1200
[email protected]