Unaffiliated Representatives
The following representatives are not affiliated with one of the regional member collaboratives, but are also working to develop the Network.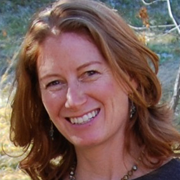 Leigh Goldberg
Consultant
Contact Leigh about: Executive and Partner Coaching, Collaborative Conservation & Stewardship, Partnership Core Competencies Training, Research and Case Studies on Landscape-Scale Collaboration, Public Speaking, Strategic Communications
Leigh Goldberg is a Management Consultant, Instructor, Partnership Coach, and Researcher specializing in collaboration within the natural resources sector. She has 20 years of experience in strategic communications and marketing, public affairs, coaching, and nonprofit management. Her more recent focus includes partnership analysis, organizational design, and communications for multi-sector partnerships. Prior to consulting nonprofits and public agencies, Leigh led the public policy and stewardship initiatives for two national nonprofits, The American Alpine Club and the American Mountain Guides Association. Since 2015, she has served on the national faculty of the Washington, D.C.-based training organization, the Partnership and Community Collaboration Academy, as an Instructor and Scholar-in-Residence.
Leigh has served as an invited panelist and presenter at state, national, and international conferences including Stanford University Law School "Uncommon Dialogue" Annual Conference, Florida National Scenic Trail 30th Anniversary Symposium, and Colorado Open Space Alliance Leadership Development Program. Leigh earned a B.A. degree in Sociology from Princeton University. She holds a Coaching Program Certificate from Coach Training Alliance and is a certified Principle-Based Partner Yoga teacher facilitating interactive, movement-based practices to help participants embody principles of partnership.
Roles:
Tamalpais Lands Collaborative: Consultant
CA Network: Core Team Member, Working Group Member (Defining Landscape Stewardship)
Contact Leigh:
(971) 271-3407
[email protected]
Resources/Downloads
Jay Chamberlin
Chief, Natural Resources Division, California State Parks
Jay Chamberlin is Chief of the Natural Resources Division of California State Parks. He and his team provide overall policy and program direction for natural resources protection and stewardship in the 1.6 million acre State Park System. Prior to working for State Parks, Jay led a habitat mitigation and ecosystem restoration program in the Sacramento-San Joaquin Delta for the California Department of Water Resources, served as Deputy Assistant Secretary at the California Natural Resources Agency, and developed a private land conservation program for the California Bay Delta Authority. Over the course of his career, he has held other resource-related positions with government and non-profit organizations in California, Oregon, Washington, Alaska and Washington, D.C. Jay grew up in eastern Pennsylvania and earned his bachelor's degree at UC Berkeley, and his M.S. from the University of Michigan's School of Natural Resources and Environment. He is an enthusiastic backcountry skier, backpacker, and cyclist.
Roles:
California State Parks: Chief, Natural Resources Division
CA Network: Representative, Working Group Member (Defining Landscape-scale Stewardship)
Contact Jay:
(916) 653-9542
[email protected]