Landscape Conservation Webinar Series
The Network for Landscape Conservation is pleased to present an ongoing webinar series, Landscape Conservation in Action. The webinars will showcase a wide-ranging set of experts in the field of landscape conservation to share practical reflections, insights, and stories on the "how to" of landscape conservation. Like landscape conservation in practice, these webinars aim to be diverse in scope and approach, and our hope is that they deepen the opportunity for exchange, learning, and dialogue across landscape conservation initiatives throughout North America.
View upcoming Landscape Conservation in Action webinars and past recordings below:
UPCOMING WEBINARS: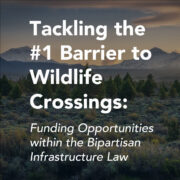 PARTNER WEBINAR: Tackling the #1 Barrier to Wildlife Crossings: Funding Opportunities within the Bipartisan Infrastructure Law
Thursday, June 9, 9 am PT / 10 am MT / 11 am CT / 12 pm ET
Register Here!
ARC Solutions, the Center for Large Landscape Conservation, the National Parks Conservation Association, and Wildlands Network are excited to continue their webinar series designed to raise awareness about wildlife infrastructure, including new and expanded funding opportunities made possible by the Infrastructure Investment and Jobs Act.
This webinar will provide an overview of new, expanded, and existing programs that can be used to pay for animal road crossing structures and other mitigation measures for wildlife.
Speakers:
Renee Callahan– Arc Solutions
 Tony Cady– Colorado Department of Transportation
  Chris Slesar – Vermont Agency of Transportation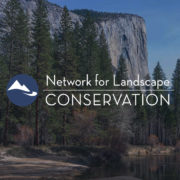 POSTPONED: Fresh Banana Leaves: Healing Indigenous Landscape Through Indigenous Science
POSTPONED Fall 2022
VIEW RECORDINGS OF PAST WEBINARS:
Partner Spotlight: The NPS Connected Conservation Webinar Series
The Network partners with the National Park Service to showcase the NPS Connected Conservation webinar series (formerly the Scaling Up webinar series). Monthly webinars highlight topics and tools aimed at furthering the practice of landscape conservation. Explore the webinars – both the archived past webinars and upcoming scheduled webinars – to hear about innovative work underway across the continent. The schedule for upcoming NPS Connected Conservation webinars is available here.
Sign up for the NPS Connected Conservation Newsletter
View the archive of NPS Connected Conservation webinars
Connected Conservation webinars are recorded; explore past webinars on the NPS Connected Conservation website or in the below archive.
Recorded Connected Conservation webinars from 2019
Recorded NPS webinars from 2018
Recorded NPS webinars from 2017
Recorded NPS webinars from 2016
Recorded NPS webinars from 2015