Landscape Conservation Webinar Series
The Network for Landscape Conservation is pleased to present an ongoing webinar series, Landscape Conservation in Action. The webinars will showcase a wide-ranging set of experts in the field of landscape conservation to share practical reflections, insights, and stories on the "how to" of landscape conservation. Like landscape conservation in practice, these webinars aim to be diverse in scope and approach, and our hope is that they deepen the opportunity for exchange, learning, and dialogue across landscape conservation initiatives throughout North America.
View upcoming Landscape Conservation in Action webinars and past recordings below:
UPCOMING WEBINARS: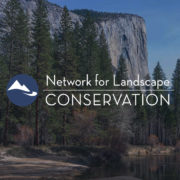 Legal Protections for Large Landscape Conservation
*POSTPONED* to Thursday, December 9th, Time: 1:00 pm (ET)
NEW Registration Link Here
Speakers will discuss legislative and regulatory matters that impact large landscape conservation with a focus on wildlife corridors and ​connectivity. This will include legal protections on:
Federal and public lands, focusing on current regulatory tools and statutes that would give the US Forest Service authority to engage in habitat connectivity planning and a discussion of the potential protections via a federal Wildlife Corridor bill.
A brief summary of recent State legislative successes.
Tribal Lands, focusing on the Tribal Wildlife Corridor Act and other legislative priorities for Tribes to support large landscape conservation and habitat connectivity.
Presenters:
Susan Holmes, Federal Policy Director,
Wildlands Network
Erin Sito, U.S. Public Policy Associate,
Wildlands Network
Julie Thorstenson, Executive Director,
Native American Fish & Wildlife Society
VIEW RECORDINGS OF PAST WEBINARS:
Partner Spotlight: The NPS Connected Conservation Webinar Series
The Network partners with the National Park Service to showcase the NPS Connected Conservation webinar series (formerly the Scaling Up webinar series). Monthly webinars highlight topics and tools aimed at furthering the practice of landscape conservation. Explore the webinars – both the archived past webinars and upcoming scheduled webinars – to hear about innovative work underway across the continent. The schedule for upcoming NPS Connected Conservation webinars is available here.
Sign up for the NPS Connected Conservation Newsletter
View the archive of NPS Connected Conservation webinars
Connected Conservation webinars are recorded; explore past webinars on the NPS Connected Conservation website or in the below archive.
Recorded Connected Conservation webinars from 2019
Recorded NPS webinars from 2018
Recorded NPS webinars from 2017
Recorded NPS webinars from 2016
Recorded NPS webinars from 2015