Landscape Conservation Webinar Series
The Network for Landscape Conservation is pleased to present an ongoing webinar series, Landscape Conservation in Action. The webinars will showcase a wide-ranging set of experts in the field of landscape conservation to share practical reflections, insights, and stories on the "how to" of landscape conservation. Like landscape conservation in practice, these webinars aim to be diverse in scope and approach, and our hope is that they deepen the opportunity for exchange, learning, and dialogue across landscape conservation initiatives throughout North America.
View upcoming Landscape Conservation in Action webinars and past recordings below:
Wednesday, May 26, 2021--Cougars, Corridors, and Conservation: Three decades of expanding vision and partnerships
Register Here
Drawing upon his more-than-thirty-year career designing and conserving wildlife corridors, Paul Beier, a Conservation Research Fellow with the Center for Large Landscape Conservation and formerly the Regents Professor of Conservation Biology at Northern Arizona University, will share insights into translating connectivity research into conservation action:
During a study of cougars in rapidly urbanizing southern California (1988-1992), I documented that dispersing cubs could find and use narrow corridors through urban areas, and my population model showed the importance of connectivity. Since then, I have been learning how to translate this science into conservation action. The key lessons were that fighting fragmentation is less effective than implementing a linkage design (duh!), and that scientists can be effective leaders only if we get local conservation practitioners to invite us to participate in their real-world work. This work involves workshops to identify 10 to 20 focal species per linkage, identifying barriers and chokepoints, and writing (nay, implementing!) plans that integrate the goals of conservation, economic development, and social justice. These efforts are not just slowing down the rate at which things get worse ("mitigation"), but are creating landscapes more permeable to wildlife than what we have today.
Presenter: Paul Beier, Conservation Research Fellow, Center for Large Landscape Conservation
Wednesday, June 9, 2021--Collaborative Landscape Conservation Planning: Fostering local stakeholder engagement
Register Here
Catherine Doyle-Capitman, the National-level Social Scientist with the US Forest Service will share insights on integrating local stakeholder participation into collaborative landscape conservation planning, and how incorporating social data–such as the values, beliefs, interests, concerns, needs, knowledge, preferences, cognitive traits, demographics, and behavioral tendencies of people living within landscapes–can be critically important to achieve landscape conservation success. This webinar will build off the Practitioners Guide to Facilitating Local Stakeholder Participation in Collaborative
Landscape Conservation Planning that Catherine authored in 2018.
Stay tuned for more webinars to be added to the program in the coming months.
VIEW RECORDINGS OF PAST WEBINARS: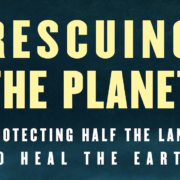 Rescuing the Planet: Protecting Half the Land to Heal the Earth
April 1, 2021
View Recording
The Network for Landscape Conservation was pleased to host award-winning author and veteran New Yorker contributor Tony Hiss for a conversation about his latest and just-published book, "Rescuing the Planet: Protecting Half the Land to Heal the Earth." Tony was joined in the discussion as well by Valerie Courtois, Director of Canada's Indigenous Leadership Initiative, whose work is featured in the book, and Brenda Barrett, editor and founder of the Living Landscape Observer and member the Network's Coordinating Committee.
We are also pleased to partner with the Country Bookshelf, an independent bookstore in Bozeman, MT to make signed copies of Tony's book available.
Purchase a signed copy of Rescuing Half the Planet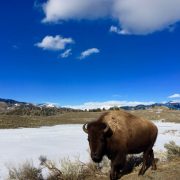 Does Advancing a Large Landscape Vision Lead to Measurable Conservation Advances? 25 Years into the Yellowstone to Yukon Conservation Vision
April 7, 2021
View Recording
Presenter: Jodi Hilty, President and Chief Scientist of Y2Y
Founded in 1993, the Yellowstone-to-Yukon vision was one of the earliest large landscape conservation visions — an interconnected system of wildlands stretching from Yellowstone to Yukon, harmonizing the needs of people with nature. Many have suggested that they are inspired by this ambitious vision, but wondered whether the vision has had any real impact given that conservation advances are generally more localized.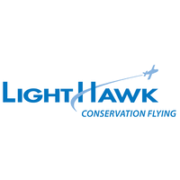 LightHawk: Using Aviation for Landscape Conservation
April 21, 2021
*Apologies that this recording is missing the first three minutes of the presentation. Please be in touch with Esther Duke at [email protected] with questions or to reach out about Lighthawk services.
View Recording
Presenters:
Ryan Boggs, Chief Program Officer, LightHawk
Esther Duke, Western Program Officer, LightHawk
Founded in 1979, the conservation nonprofit LightHawk is the largest environmental flying organization in the country. We engage our network of more than 300 volunteer pilots to provide hundreds of flights each year. Working with more than 100 conservation partners, we help solve pressing river, ocean, land and wildlife problems.
LightHawk is donating flights to advance the work of Network for Landscape Conservation's members. LightHawk flights can advance your conservation mission in many ways. Flying is often the best way to demonstrate the scope and potential impact of your initiative to:
· Legislators and policy-makers
· Key corporate partners and other stakeholders
· Foundation program officers and major donors
· Journalists and other media
Flights can also enable you to survey wildlife, monitor conservation easements, photograph your landscape, and even transport wildlife to support species recovery efforts. LightHawk provides customized conservation flight planning, planes, pilots, and advice on photography. Flights are available in Canada and Mexico as well as the U.S.
Partner Spotlight: The NPS Connected Conservation Webinar Series
The Network partners with the National Park Service to showcase the NPS Connected Conservation webinar series (formerly the Scaling Up webinar series). Monthly webinars highlight topics and tools aimed at furthering the practice of landscape conservation. Explore the webinars – both the archived past webinars and upcoming scheduled webinars – to hear about innovative work underway across the continent. The schedule for upcoming NPS Connected Conservation webinars is available here.
Sign up for the NPS Connected Conservation Newsletter
View the archive of NPS Connected Conservation webinars
Connected Conservation webinars are recorded; explore past webinars on the NPS Connected Conservation website or in the below archive.
Recorded Connected Conservation webinars from 2019
Recorded NPS webinars from 2018
Recorded NPS webinars from 2017
Recorded NPS webinars from 2016
Recorded NPS webinars from 2015