Landscape Conservation Initiatives Survey
Tracking the development of the field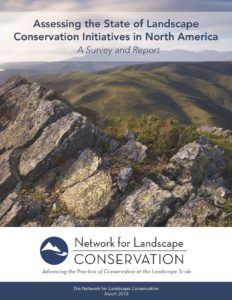 The Network actively seeks to document the growth of the landscape conservation approach across the country, continent, and beyond. As part of this work, the Network has launched an in-depth survey of self-identified landscape conservation initiatives in North America. Conducted every three years (the latest being completed in 2017), the survey is intended to:
Document the growth of landscape conservation over time;
Identify best practices and success stories to share with other practitioners;
Identify greatest challenges so the Network and others can develop programs, tools, and funding to surmount those challenges; and
Shine a spotlight on the rapid rise and critical importance of landscape conservation in order to help individual efforts and the community as a whole.
A summary report of the 2017 survey was released in early 2018.
Read the 2017 Summary Report
A full report of the survey analysis is also available.
A map of landscape conservation initiatives throughout North America can be found in the Knowledge Center; connect with and learn more about other initiatives by exploring the database.
Explore the Initiative Database
The 2017 survey – while being the first to take a comprehensive look at North America – builds on previous regional efforts:
If your initiative did not submit information to the survey during the 2017 data collection period, please consider doing so now to add you work to our growing understanding of the landscape conservation field.