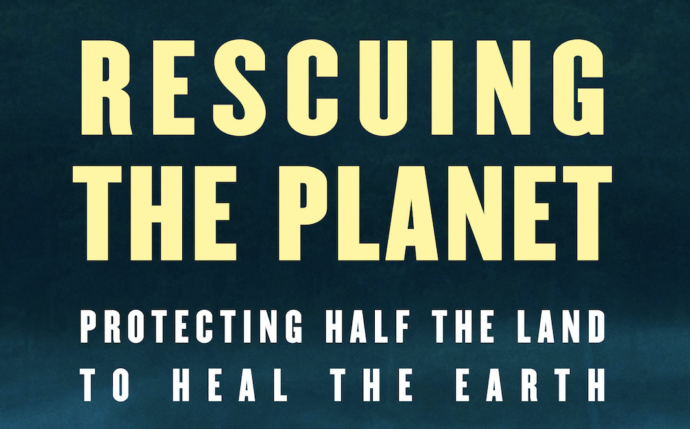 March 4, 2021
Virtual Event: Rescuing the Planet
The Network for Landscape Conservation is pleased to be hosting award-winning author and veteran New Yorker contributor Tony Hiss for a conversation about his latest and just-published book, "Rescuing the Planet: Protecting Half the Land to Heal the Earth." Moderated by Rebecca Stanfield McCown, director of the National Park Service Stewardship Institute and member of the Network's Coordinating Committee, and Brenda Barrett, editor and founder of the Living Landscape Observer and member the Network's Coordinating Committee, the conversation will explore the optimistic vision that Tony's book offers for how this bold landscape conservation strategy can be achieved. Tony's book has been getting some great early reviews, with one calling it a "keystone resource" and another naming it one of "the most anticipated books of Spring 2021." Tony will be joined in the discussion as well by Valerie Courtois, Director of Canada's Indigenous Leadership Initiative, whose work is featured in the book. This virtual event is scheduled for April 1, 2021 at 1 pm Eastern time.
Register for the Event
We are also pleased to be able to partner with the Country Bookshelf, an independent bookstore in Bozeman, MT to make signed copies of Tony's book available.
Purchase a Signed Copy of Rescuing Half the Planet
ABOUT RESCUING THE PLANET
"As clear a picture of humanity's impact on earth's natural environment as any ever written."

—E. O. Wilson (from the Introduction)
From the award-winning author of The Experience of Place and veteran New Yorker staff writer: an urgent, resounding call to protect 50 percent of the earth's land by 2050—thereby saving millions of its species—and a candid assessment of the health of our planet and our role in conserving it.
Beginning in the North American Boreal Forest that stretches through Canada, and roving across the continent from the Northern Sierra to Alabama's Paint Rock Forest to a ranch in Mexico, Tony Hiss sets out on a journey to take stock of the "superorganism" that is the earth: its land, its elements, its flora and fauna, its greatest threats—and what we can do to keep it, and ourselves, alive. Hiss not only invites us to understand the scope and gravity of the problems we face, but also makes the case for why protecting half the land is the way to fix those problems. He highlights the important work of the many institutions and organizations already involved in this fight, such as the Indigenous Leadership Initiative, the Yellowstone to Yukon Conservation Initiative, and the global animal tracking project ICARUS. And he introduces us to the engineers, geologists, biologists, botanists, oceanographers, ecologists, and other "Half Earthers" like Hiss himself who are allied in their dedication to the simple, essential cause of saving our own planet from ourselves.
Tender, impassioned, curious, and above all else inspiring, Rescuing the Planet is a work that promises to make all of us better citizens of the earth.