2017 National Forum
The National Forum on Landscape Conservation: Shaping the Future of Policy and Practice
Convened by the Network for Landscape Conservation and partner organizations, the National Forum on Landscape Conservation was a focused strategic dialogue amongst 200 practitioners and policy makers from across diverse sectors and geographies that sought to explore the current state of landscape conservation, identifying many challenges and opportunities and revealing countless stories of inspiration and innovation. In far-ranging discussions, practitioners worked to identify what we all can do together and in our own landscapes to shape this essential practice and ensure a healthy, sustainable future for wildlife and people.
A report on the Forum is forthcoming in Spring 2018.
Video of Plenary Sessions Available
Plenary sessions at the National Forum were recorded, and are arranged by the three topics that framed the Forum (see Program Agenda). In each topic, a keynote and plenary panel were followed by a series of breakout sessions for more in-depth dialogue and exchange.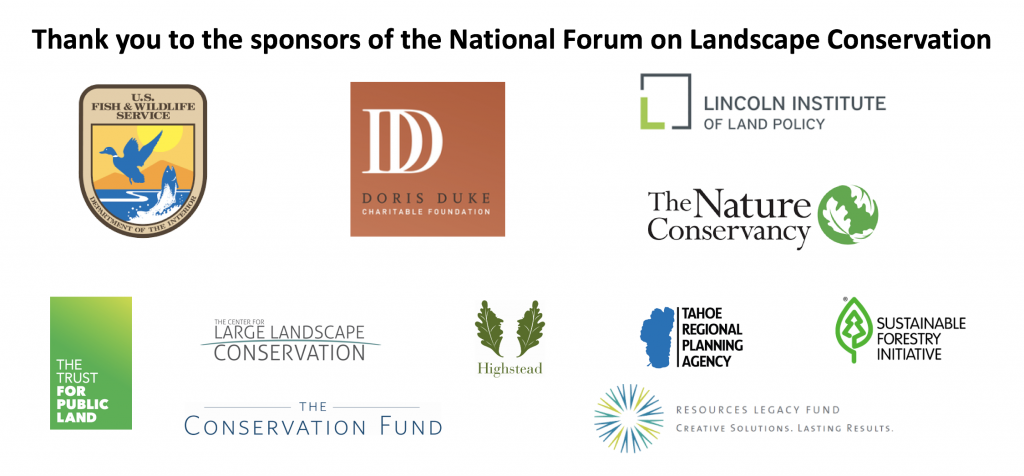 ---
Join the Network to stay connected to the broader landscape conservation community of practice and to stay connected to the continued strategic conversation coming out of the National Forum: